This Bride Did A Bouquet Of Her Fave Snack For Her Wedding And We Want One Too
September 13, 2017
We all have our favorite snacks, smokie pasua, mandazi, chocolate, now imagine if you can a bouquet of your favorite snack for your wedding.
This is exactly what Australian bride, Paige Kirk did for her wedding, she walked down the aisle holding a bouquet of donuts and we are in awe of this perfect idea.

Just imagine strutting your way up the aisle while the smell of smokie pasua wafts from your bouquet! We didn't think perfection existed we won't look at a bouquet  the same anymore.
Paige along with her three bridesmaid took a photo holding their massive powdered sugar donut bouquets and we feel nothing but envy.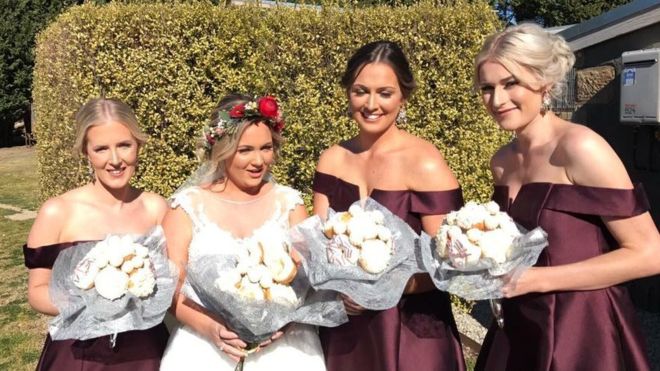 Image: bbc.com
When asked how she decided on this particular bouquet:
Me and my husband Steven thought it would be different, fun and light hearted," she told the BBC. Despite their tempting appearance, she said her bridal party had resisted eating their doughnuts on the day. We had plenty of goodies beforehand so we were too full too eat them, she said.
The reaction was surprising:
Everyone thought it was hilarious, and the venue couldn't believe it," she said. Brides should be a bit more relaxed and have fun!"
These wedding planners need to keep up for those of us who want to be extra on our wedding day. What do you think ladies? What's your fave snack?
Magdalyne Masai should totally do this for her wedding Wedding Bells Are Ringing As Kenyan Runner Magdalyne Masai Just Got Proposed To On The Track
Comments
comments

-